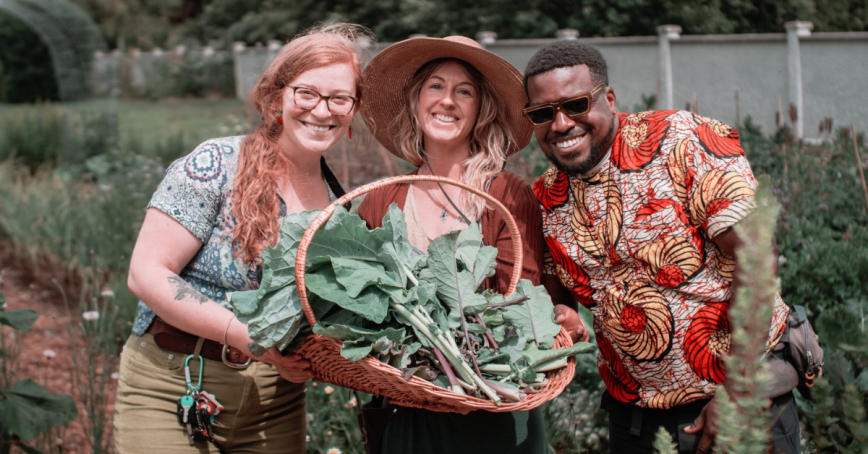 Some people enjoy them with mashed potatoes, smoked meat or even mac and cheese.
But Anna Maria Stone says collard greens are best enjoyed with a healthy side of stories and laughter.
"The health of people and the land thrive when we grow, harvest, share and cook together," says Stone, who is the program coordinator for Iyé Creative Collective, a grassroots organization that, in part, teaches people to grow their own food.
In partnership with the City of Victoria and Royal Roads University's Farm at RRU, Iyé Creative Collective organized a collard greens workshop – to teach people not only how to grow and cook the leafy green, but also about the cultural significance of the nutritious and hearty plant.
"Part of our work over the last two years has been bringing more culturally relevant foods to the table and introducing crops that can thrive in this ecosystem," Stone says. "Collards love these lands, and our communities love collards."
Royal Roads University Food Systems Manager, Solara Goldwynn couldn't agree more.
Climate change means there's growing importance in diversifying the crops we grow, Goldwynn says, who led the first part of the workshop in Royal Roads University's Giving Garden as part of the Farm at RRU.
"Collards are a super resilient plant and they grow really well in our climate."
Goldwynn has been growing collards in the Giving Garden for well over a year, along with other veggies including summer squash, tomatoes and beans. Harvests are distributed to recipients including students, seniors, single parents and new immigrants via weekly box programs and community fridges both on and off campus.
"Food insecurity rates are increasing everyday with inflation, economic downturn, and the fundamental lack of connection to the lands and waters we reside on," Stone says. "Our intention was to bridge the gap between communities while highlighting the significance of this valuable food plant."
Why the humble collard?
Collards not only grow well here, but they also have a fascinating history that spans different cultures and communities around the globe, Stone says.
In addition to the collard greens, curried dahl and roti on the menu, was a communal culinary experience led by Chef Natalie Justin, workshop co-facilitator and owner of Stir it Up Caribbean restaurant in downtown Victoria.
As Justin taught participants how to prepare and serve the leafy greens harvested from Royal Roads, she also spoke to the significance of collards in the African diaspora and their journey through generations to the Americas in the braids of ancestors, says Ariel Reyes Antuan, who co-founded Iyé Creative alongside his partner Jess Barton.
"Collards really are a symbol of resilience and cultural identity," Reyes Antuan says. "We also talked about the close relations of African descendants in the diaspora and Indigenous peoples in the Americas, as they have historically shared and exchanged seeds, fostering cultural exchange, resilience, and a shared commitment to sustainable agriculture."
So you want to grow collards? Here are Goldwynn's top tips.
Start from seed now and you will have collards all winter and next spring.
Collards are heavy feeders. Give them plenty of manure and plant in rich soil fortified with compost. Use organic fertilizer throughout the growing season as needed. Fish or kelp fertilizer are great options.
Already got collards on the go? Are they infested with aphids? Don't give up on your plants. They love the cold and once fall arrives, they'll recover.
Save your own seed – and plant free food every year.
Ready to cook with collards? 
Try these Callaloo Collard Greens from The Black Foodie
Ingredients
1 Smoked turkey leg chopped into bite-sized pieces
1 lb Collard greens
1 Carton of Chicken broth
½ cup Coconut milk powder
7 Okra
1 Onion
8 Cloves of garlic
1 Scotch bonnet pepper
3 Sprigs of thyme
1 Chicken bouillon cube
1 tbsp Paprika
4 Green onions
2 tbsp Olive oil
Instructions
In a large pressure cooker on medium heat, cook the olive oil, garlic, green onions, and okra over medium heat until fragrant.
To the pot, add the chopped turkey leg and sauté it, stirring occasionally until the onions are translucent, about 5 minutes.
Stir in the collard greens, chicken broth, coconut milk powder, thyme, chicken bouillon cube, paprika, and scotch bonnet pepper*.
*To increase the heat of the dish, crush the scotch bonnet pepper into the mixture. If you like it mild, leave the pepper to rest on top of mixture as it cooks.
Cover, and let it cook down for 30 minutes.
Season to taste and serve.
---
Learn more about Iyé Creative Collective and the City of Victoria's Get Growing Program. 
The Farm at RRU is supported by TD Bank Group. For more information on how your donation in support of the gardens at Royal Roads University can help tackle food insecurity, act on reconciliation, establish community spaces and create biodiversity, donate to Vision in Bloom today. 
https://rruinbloom.ca/wp-content/uploads/2023/08/Collards-for-web_0.png
454
868
Stephanie Clay
https://rruinbloom.ca/wp-content/uploads/2021/03/royal-roads-university-logo-white.svg
Stephanie Clay
2023-08-01 10:44:54
2023-08-01 10:49:05
Growing resilience and cultural exchange